Love to Travel?
For a limited time only, apply for Aer Credit Card using the promotional code BAWPromo and enjoy no monthly fees for the first 12 months!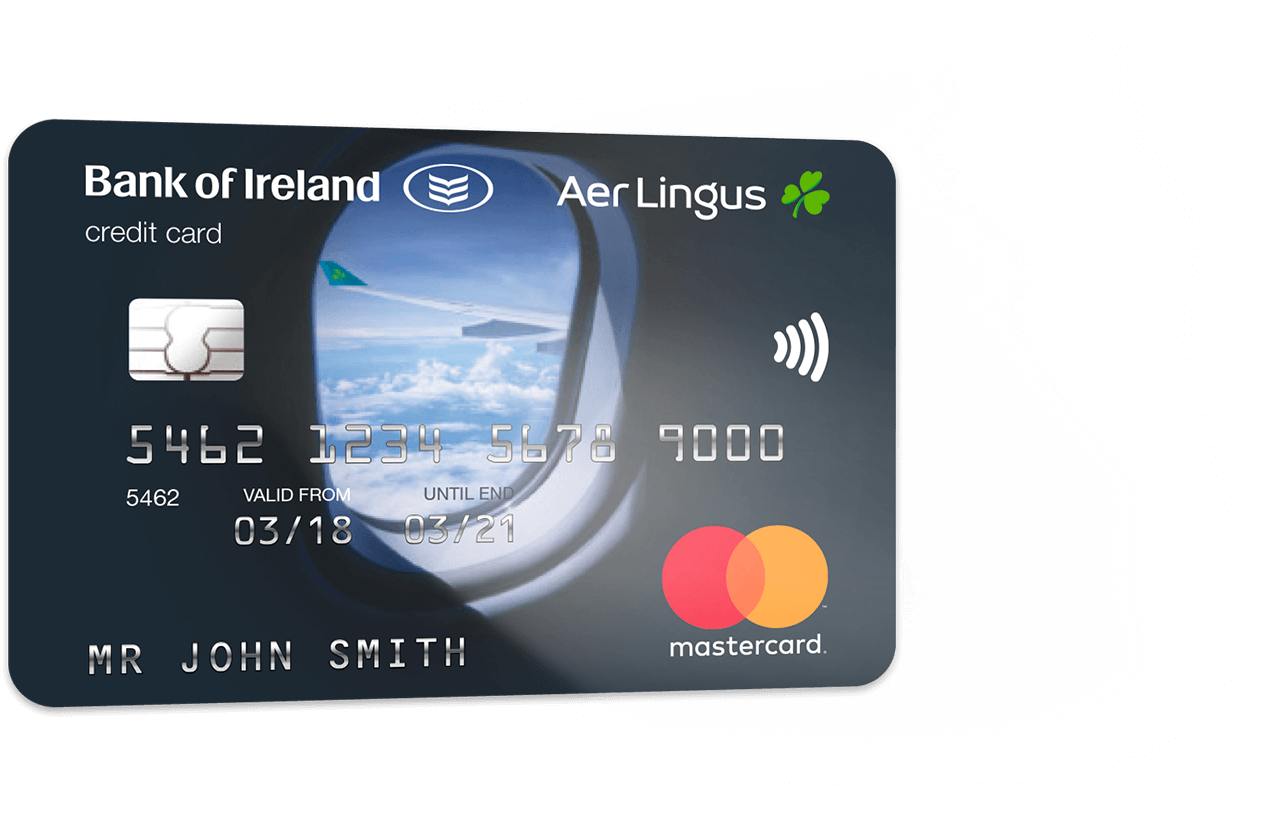 This promotion is open for a limited period to all employees of Bank of Ireland Bank at Work partners. Terms and conditions apply.
Love to Travel? Credit Cards don't get any smarter than this.
For a limited time only, we are waiving the monthly fee of €7.99 on Aer Credit Card for the first 12 months. Avail of these amazing travel rewards worth over €228* today. This increases in value when Flights and Avios are included. The value of these rewards depends on when and where you travel and how often you use your Aer Credit Card.
All the Travel Rewards you'll enjoy

Features & Benefits
2 Return Flights: you pay taxes, fees and charges. Available when you spend €5,000 or more within a Reward Year on your Aer Credit Card, except for Excluded Transactions. Free return fares are for any European Aer Lingus ticketed and operated flights to/from Dublin, Cork, Shannon or Belfast. Travel restrictions apply.(1)
2 Fast Track & Priority Boarding Passes: on Aer Lingus operated flights out of Ireland at selected airports every Reward Year.
2 Lounge Passes – to access Aer Lingus operated airport lounges at Dublin, Cork, Shannon and Belfast every Reward Year.
Avios: Collect 1 Avios for every €1 you spend on Aer Lingus products and services. And 1 Avios for every €4 you spend on all other transactions (except for excluded transactions). Avios can be used to save money on flights(2)
Worldwide Multi Trip Travel Insurance: including winter sports.(3)
Introductory offer: 0% interest on purchases for first 6 months OR 0% interest on balance transfers for first 7 months.(4)
No transaction fees: pay no transaction fees when you use your credit card to pay for goods and services. Cross border handling fees apply to non-Euro transactions.
Low cost instalment option: Spread the cost of larger purchases at a great low rate by taking advantage of our unique credit card Instalment Plan.
Free Additional Cardholders: Add up to 3 additional cardholders and still pay government stamp duty only once.
Interest free credit: Pay your bill in full and on time every month and don't pay any interest on purchases. Enjoy up to 56 days interest free credit on what you buy. Interest is charged on cash advances and outstanding balances.
Apply online or call

0818 200 412

(Mon. to Fri. 8am-8pm). Don't forget to use/quote the promotional code

BAWPromo

to enjoy no monthly fees for the first 12 months!
(1) A minimum of two seats per flight will be available, except for Restricted Periods. Seat availability on the Aer Lingus website or through a booking agent does not guarantee a free return fare.
(2) Avios are issued and redeemed in accordance with Avios Terms and Conditions. Please see
www.avios.com
for more details.
(3) Acceptance criteria, terms and conditions apply. Bank of Ireland Travel Insurance is underwritten by AIG Europe S.A.
(4) 0% interest available for new credit card customers for the first 6 months for purchases or 7 months for balance transfers from the date of account opening. At the end of the introductory period, the annual interest rates will revert to the standard interest rate applicable to your card at that time. Representative example of Aer Credit Card purchase at standard interest rate of 16.12% variable. Typical Annual Percentage Rate (APR) of 26.6% variable including annual Government Stamp Duty of €30 and an Annual charge of €95.88 (this is made up of 12 monthly charges of €7.99). Assuming purchase of €3,000 repaid in equal instalments over a 12 month period. The total amount repayable by customer is €3,387.90 which includes initial purchase of €3,000 and a total cost of credit of €387.90.
*Cost of purchasing Fast Passes (€5.95 per pass x 2), Lounge Access (€30 per access x 2 ) and Travel Insurance (€155.94 per policy) equates to €227.84 (€19pm). Free Fares and Avios are not included in price comparison. Fast Pass Source:
Find Out More
Lounge Pass Source:
Find Out More
Worldwide Multi Trip Travel Insurance: €155.94 is based on a family (2 adults aged 18-49 and up to 6 children aged 17 years or under) taking out a Silver level cover Bank of Ireland Annual Multi Trip policy. This information was obtained in August 2019. Bank of Ireland takes no responsibility for the accuracy of information from third party websites.
Aer Credit Card is brought to you by Bank of Ireland in partnership with Aer Lingus. Over 18s only. Lending criteria, terms and conditions apply. Bank of Ireland is regulated by the Central Bank of Ireland.