Get Started
If you're new to computers, smartphones and the Internet, our dedicated team of Digital Arrows can help get you up to speed. They can introduce you to social media, help you set up your first email account, and show you how to bank online – safely and securely. We have a Digital Arrow in your local branch to help you.
Join us for a cuppa
Our Digital Arrows regularly hold free 'Tea and Teach' sessions across the country. This is a friendly and fun way for you to learn the basics of the internet and online banking. Simply bring along your smartphone or tablet and – over a cup of tea or coffee – they can help you get started.

Talk to a Digital Arrow today
We have a Digital Arrow in each of our 250 branches nationwide. So the next time you're in your local branch, why not have a chat with one them? They're ready to answer your questions and help build up your digital confidence.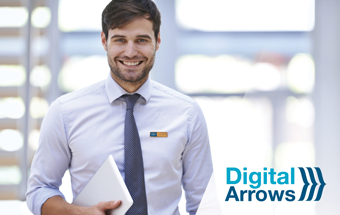 Meet the Arrows

Our 250 Digital Arrows are supported and trained by a team of six experts who are always on the lookout for the newest digital craze, channel and of course interesting topics for our 'Tea and Teach' sessions. Take a moment to meet the team.

Paula Connellan

I've worked at Bank of Ireland for 14 years across a range of areas and was delighted to land my dream job as a Digital Arrow in January 2015 combining my passion for people and all things digital. My eyes were really opened to the wonders of technology when I had my twins in 2011 and found myself relying more and more on digital channels to keep on top of things. Whether its online shopping for groceries, paying bills and managing finances through online banking or keeping in touch with friends through social media, digital channels have now become part of my daily life and I'd be lost without them. I really enjoy meeting, chatting and teaching others about the world of online. The great part of my role is that I have an opportunity to bring others along this journey with me.


Linda Coughlan

Since joining Bank of Ireland in 1999 I've developed a broad range of experience across Branch Banking, ATM Implementation and Digital channels. The speed at which the world has become so digital fascinates me and I am constantly exploring new digital ways of doing things. Through my work as a Digital Arrow, I enjoy sharing tips and advice with people on how to get started and make the most out of the many different online channels available.


Gary Maher

My interest in digital started during my time in Australia when I used social media channels to stay in touch with friends and family. Now, with a young family, this interest has developed significantly and there are many genuine benefits to be had from different digital platforms which make life so much easier. As a serious football fan, the access to 24 hour sports commentary online is incredible. Through my role as a Digital Arrow, I enjoy sharing my knowledge and expertise with others, whether its banking online, learning how to Skype or safety on the internet, I love assisting communities throughout the South East and find the role extremely enjoyable and very rewarding.


Aidan Lennon

I've been working at Bank of Ireland for 17 years and up to recently, email was my main source of digital communication. In the last number of years since becoming a Digital Arrow in the north west region, I have developed a much better understanding of all things digital. I really enjoy working with colleagues and customers, groups (IFA, ICA, Age Action, Age Friendly) to help them further develop their digital capability through tea & teach sessions, workshops on 'ways to bank' or 'staying safe online' and social media. My public speaking and coaching skills have really improved and helping people gain more confidence online is an extremely rewarding part of the job.


Rachel Foster

I joined BOI in 2013. The world of digital comes naturally to me as I'm part of Generation Y which means I've grown up surrounded by texting, social media and the internet. I moved out of home last year and was daunted when trying to organise my bills for the first time, however, using social media as a first point of contact provided a quick and easy solution, as I was able to access quotes from a number of companies, helping me to make a decision that worked best for my situation. Joining the Digital Arrows team has been incredibly fulfilling. It's opened my eyes up to the ever evolving world of digital and I really enjoy supporting people on their digital journey.


Laura Allen

Since joining Bank of Ireland almost 15 years ago I've been fortunate to work across many different areas. However, my role as a Digital Arrow is definitely one of the most unique and exciting and every day brings something different. I have a teenage daughter so keeping up with life online is important, and for me, being able to understand the many different types of social channels out there, is reassuring. In my role I regularly meet and present to communities around the country which is fantastic. When delivering a presentation to any group, large or small, the personal sense of achievement is so rewarding, I'm always looking forward to the next one!