Begin Together – helping our communities to thrive
Belonging to a vibrant supportive community can be incredibly rewarding. But great communities and thriving towns don't just happen. They need tireless commitment and active support.
Fortunately, in every town and village there are people, businesses and organisations working hard to make things better for everyone. Bank of Ireland Begin Together supports them and their work in communities all across the island of Ireland.
Let's Begin Together.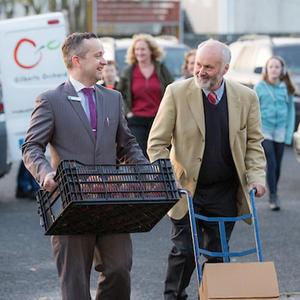 Begin Together Fund
The Begin Together Fund provides valuable investment for community initiatives that will make a real difference in towns and villages.
We want to get behind those trying to make the lives of others in their communities better by improving their financial, physical and mental wellbeing.
Whatever their ideas, we want to help them to succeed.
Begin Together Awards
The Begin Together Awards honour all the great work done by those striving to lead their communities forward and empower local economies.
We want to recognise businesses and communities by getting behind the activities that will generate investment for towns and villages.
Whatever their vision, we want to help make it a reality.