How can we help?
We understand that it can be a distressing time when you (or someone close to you) need to go into a nursing home. Dealing with both legal issues and financial issues at the same time can also be stressful. If you are applying for the Nursing Homes Support Scheme (NHSS) and need guidance on your banking with us, please read our Guide to the Nursing Homes Support Scheme. You can also phone our support line and we will give you as much help as possible.
Contacting us
You can visit your local branch or call us on our support line:
From in ROI: 0818 200 423
From outside ROI: 00353 1 2500423
The information we provide about the NHSS is for information only. It does not mean that we recommend or have approved the scheme.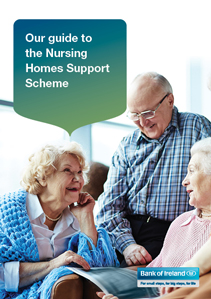 Click on the image to download our brochure.