Bank breaking up with you?
Time to find someone new. To start getting over your old banking partner download our step by step guide to moving banks.
Switcher Saturday Branches
Whether you're moving from one of the departing banks or opening your first bank account, you're sure of a big welcome here at Bank of Ireland.
We've got years of experience in serving personal and business customers, with a digital banking offering that puts banking at your fingertips and allows you to do your banking from anywhere – at any time.
Or if you favour the face-to-face touch we have 1,000 locations across the country in our own branches and through our partners in An Post. You can move your account to Bank of Ireland yourself or you can let us move your account by using our formal switching service, find out more below.
Our Big Move Guide has all you need to know about moving bank accounts, and if you do decide to choose Bank of Ireland, we'd be lucky to have you!
What type of account do you need?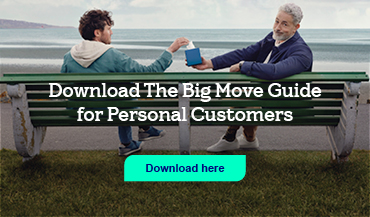 Step 1: Get Ready
Get ready: before you open your account make sure you have the correct documents to hand. You'll need different documents depending on the type of account you want to open.
Step 2: Open
Start the account opening process today by applying online for your current account.
If you are moving banks you may wish to apply for multiple products at once. You can apply for your current account, an overdraft and/or a credit card in one application form with our new multi-product form.
You can find the features and benefits of an overdraft here and our credit cards here. If you prefer, you can make an appointment to visit us in branch.
Start your multiple product application below if you wish to apply for a current account, an overdraft and/or a credit card.
As soon as your personal current account application has been approved, we'll send you your IBAN and any information you need to get started on 365 Banking.
Step 3: Move
Start the switch by making a list of all your payments in and out, and start sharing your new details with all the relevant parties. You'll need to contact each individual direct debit originator to change their direct debit payment account. Once you receive your new card, you'll need to update any recurring card payments such as music streaming services, gym memberships etc.
All inward payment payment providers (such as your employer, social welfare, tenants etc.) will need to be provided with your new account details.
Our Moving Guide has helpful lists and jargon busters to guide you through the process.
Step 4: Close
When you've moved all payments over, don't forget to bring the balance of your old account to zero by completing a transfer to your new BOI current account and close your old account, if you wish to do so.
Check out our Moving Guide: Our Moving Guide has lots of great tips for making the move simple and easy.
Alternatively, you can use the Central Bank of Ireland Switching Code to move your account from your current bank to Bank of Ireland. You can download our guide which takes you step by step through this process here.
Please note that some Direct Debit originators do not accept Direct Debit instructions from 3rd parties. In this instance your "old" bank is considered a 3rd party. It is very important that you personally contact your Direct Debit originators to ensure that your Direct Debit details have been updated to avoid any missed payments."
There may be other products that you are interested in, to find out more see below:
Alternatively, use the Switching Service
Customers can switch to Bank of Ireland using the formal bank-to-bank switching process. Once you have opened your new Bank of Ireland Current Account, you can complete our digital switching form here. You will find all the information you need on switching in our downloadable Switching Guide below. We have also included a paper version of the form in our guide if you would prefer to complete it and drop it into your nearest Bank of Ireland branch to be processed.
It is recommended that you choose a switching date for a day when there is the least activity on your account, typically 10-20 days after payday.
Please note that some Direct Debit Originators do not accept Direct Debit updates from third parties, In this instance, your old bank is considered a third party. Double check with your service provider that your Direct Debit details have been correctly updated to avoid any missed payments.
Recurring Debit Card payments will not automatically switch over. You'll need to give your new card details to the providers you pay in this way.
You can find everything you need in the guide below.
1
Terms and conditions apply to 365 Online
2
Lending criteria, terms and conditions apply. Over 18s only
3
Terms & Conditions apply.
4
Lending criteria, terms and conditions apply.