Read how COVID-19 affected first-time buyers in many ways from putting a strain on incomes to changing the types of properties for their first home.
Covid-19 has affected first-time buyers in many ways from putting a strain on their incomes, in some cases, to changing the types of properties they will now consider for their first home.
According to our 2020 survey of first-time buyers, more and more were considering a wider range of properties and areas than ever before.
The reason for this was partly due to lack of supply and partly due to changing priorities.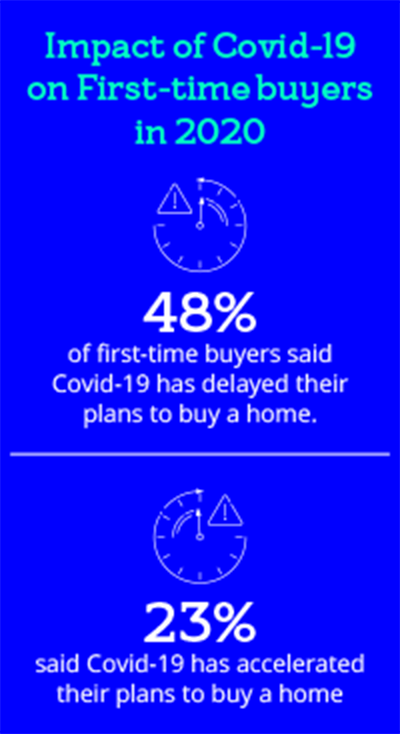 Restricted supply of properties
There are now fewer new homes on the market because construction was affected by Government Covid-19 restrictions and fewer second-hand homes available because viewings were also disrupted or sellers simply decided to stay put.
So it's important to be flexible if you want to buy a home within a reasonable time - especially as none of us knows exactly how long the pandemic and Government restrictions will last.
In this market, it's vital to consider different types of homes and a wide range of areas rather than setting your heart on just one location and a rigid checklist of features that you must have in your new home.
Remember that some features, such as whether a garden is south-facing, cannot be changed but others, such as whether it has a home office may be fixed by renovating your home after you move in. If you're looking for a house and wondering what to look out for Dermot Bannon gives his tips here.
Changing priorities
The experience of lockdowns and working from home for some has broadened out the types of properties that first-time buyers are considering.
Surveys by MyHome.ie from July – September 2020 vs July – September 2019 showed a huge increase in the number of searches for properties outside Dublin in rural settings. Specifically, buyers were searching for cottages in Kerry (up 400%), Mayo (up 300%), and West Cork (up 500 %).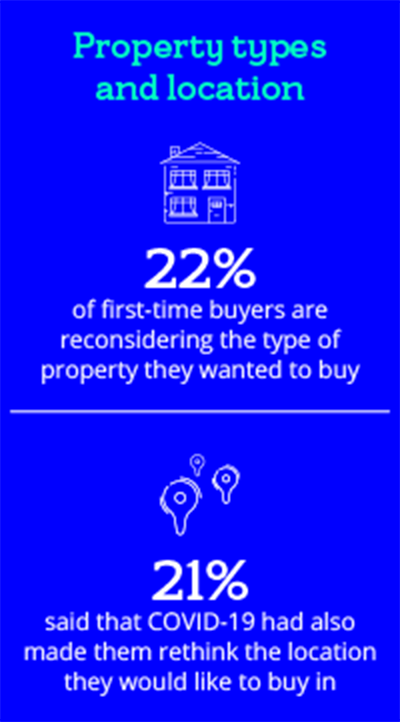 Demonstrate that your income is dependable
Many first-time buyers have had their incomes affected by the economic fallout of Covid-19.
For some, the impact might be short-term. They may soon be back earning the same salary they did before Covid-19. Others might not get back to the previous income for a while and, unfortunately, that might delay their chances of getting a mortgage.
Mortgage lenders have a duty to make sure that you can afford the mortgage you apply for so be ready to demonstrate that your income is regular and dependable when you apply for a mortgage.
Make sure you are mortgage-ready sooner
Buying a home during Covid-19 means getting mortgage-ready over a period of time instead of leaving it until after you've found the home you want to buy.
Meet with a mortgage specialist to start the mortgage application process as early as possible and get answers to your questions sooner rather than later.
If you prefer not to meet face to face or you're observing a local lockdown, you can arrange to meet a Bank of Ireland mortgage specialist over the phone or via Facetime or Skype.
Remember that the Central Bank's Loan to Income limit has not changed.
You can still only borrow a maximum of 3.5 times your gross income (income before tax) so a couple earning €100,000 can borrow a maximum of €350,000. These limits may vary.
Be ready to spend a lot more time online when buying a home during Covid-19
Open viewings have become a thing of the past when buying a home during Covid-19 Government restrictions.
And estate agents have had to become innovative to enable home-buyers to view properties, online.
This means you may well find yourself going on virtual tours of homes and attending live streaming of open houses instead of attending countless viewings in person.
While, for new builds, you may prefer viewing 3D renders of the property and the surrounding development rather than heading to the site.
Seeing a home in person is now by invitation-only.
Your time in the property may be restricted so you need to go prepared to make the most of your real world viewings to get the information you need.
Buying a home during Covid-19 may require even more patience than usual.
You will find the full first-time buyer survey results here
*Research was conducted by RED C between November 2nd and 3rd 2020 with 204 people aged 25-45 who are 'planning to buy or build their first home in the next few years'
Bank of Ireland Mortgage Bank trading as Bank of Ireland Mortgages is regulated by the Central Bank of Ireland
Bank of Ireland is not responsible for information on 3rd party websites.
*The lender is Bank of Ireland Mortgages. Lending criteria and terms and conditions apply. A typical mortgage to buy your home of €100,000 over 20 years with 240 monthly instalments costs €615.79 per month at 4.2% variable (Annual Percentage Rate of Charge (APRC) 4.3%). APRC includes €150 valuation fee and mortgage charge of €175 paid to the Property Registration Authority. The total amount you pay is €148,114.60. We require property and life insurance. You mortgage your home to secure the loan. Maximum loan is generally 3.5 times gross annual income and 80% of the property value (90% of the property value for first-time buyers). A 1% interest rate rise would increase monthly repayments by €54.02 per month. The cost of your monthly repayments may increase – if you do not keep up your repayments you may lose your home. Available to over 18s only.